NURNET – GEOPORTAL
Parole chiave:
cultural heritage landscape, public participatory gis, geoportal, Sardinia, archaeology
Abstract
CRS 4 (Center for Advanced Studies, Research and Development in Sardinia) developed the Geoportal Nurnet (http://nurnet.crs4.it/nurnetgeo/) to manage and share information about the Bronze Age in Sardinia (Italy).
The scope of this paper is to explain how the Geoportal Nurnet (net of Nuraghes, the typical Sardinian building from the Bronze Age) has been developed to promote the Bronze Age culture in Sardinia, identified in the Pre-Nuragic (3200−2700 BC) and Nuragic (up to the 2nd century AD ) civilization. It is fed by a net of conventional social connections and social web networks empowered by private citizens, agents and public administrations sharing the same goals and interests.
Riferimenti bibliografici
Ballatore, A., & Bertolotto, M. (2011). Semantically enriching VGI in support of implicit feedback analysis. In Web and Wireless Geographical Information Systems (pp. 78-93). Springer Berlin Heidelberg.
Cuca, B., Brumana, R., & Oreni, D. (2013, August). Geo-portals: more sustainable governance of territory within spatial data framework. In First International Conference on Remote Sensing and Geoinformation of Environment (pp. 87950G-87950G). International Society for Optics and Photonics.
Cuca, B., Oreni, D., & Brumana, R. (2012, September). Digital cartographic heritage in service to the society: Landscape analysis for informed decision making. In Virtual Systems and Multimedia (VSMM), 2012 18th International Conference on (pp. 499-506). IEEE.
Demontis, R., Lorrai, E. B., Muscas, L., DeMarr, M., Estabrook, S. (2013). Cost function for route accessibility with a focus on disabled people confined to a wheelchair: the TOURRENIA Project.
th Urban Data Management Symposium, London, May , page 7--13 – 2013.
Fernández-Wyttenbach, A., àlvarez, M., Bernabé-Poveda, M., & Borbinha, J. (2007). Digital map library services in the spatial data infrastructure (sdi) framework: The digmap project. In Proceedings of the 23th International Conference in Cartography. International Cartographic Association (ICAACI). Moscow,(Russia) August (pp. 4-10).
Guidry, L. (2011). Using WebGIS and Crowdsourcing to Locate an Invasive Species in Pima County, Arizona.
Karabegovic, A., & Ponjavic, M. (2012, September). Geoportal as decision support system with spatial data warehouse. In Computer Science and Information Systems (FedCSIS), 2012 Federated Conference on (pp. 915-918). IEEE.
Lilliu, G. (2006). Sardegna Nuragica, Edizioni Maestrali.
McCall, M. K., Martinez J. and Verplanke J. (2015). Shifting boundaries of Volunteered Geographic Information systems and modalities: Learning from PGIS. ACME An International E-Journal for Critical Geographies 14.Nurnet geoportal address http://nurnet.crs4.it/nurnetgeo/.
Pictures and maps have been taken from Nurnet Geoportal and website of Nurnet Foundation.
Ontario Heritage Trust (2012). Cultural Heritage Landscape- An introduction. www.heritagetrust.on.ca
Rampl, G. (2014). Crowdsourcing and GIS-based Methods in a Field Name survey in Tyrol (Austria), United Nations Group of Experts on Geographical Names, Working Paper NO. 16/9, Twenty-eight session, 28 April – 2 May 2014, Item 9 of the Provisional Agenda Activities relating to the Working Group on Toponymic Data Files and Gazetteers.
Regione Sardegna Geoportale (2013), http://www.sardegnageoportale.it/
webgis2/sardegnamappe/?map=base
Spanu, V., Gaprindashvili, G., McCall, M. K. (2015). Participatory Methods in the Georgian Caucasus: Understanding Vulnerability and Response to Debrisflow Hazards. International Journal
of Geosciences 6 (7), 666-674 United Nations Group on Geographical Names- Romano- Hellenic Division (2015), International scientific symposium, Place names as intangible cultural heritage, Firenze – Italy, 26th - 27th March 2015
Werts, J. D., Mikhailova, E. A., Post, C. J., & Sharp, J. L. (2012). An integrated WebGIS framework for volunteered geographic information and social media in soil and water conservation. Environmental management, 49(4), 816-832.
Wikimapia (2013), http://wikimapia.org/#lang=it&lat=39.622615&lon=9.2
&z=9&m=b&tag=37157
Wikipedia (2015), https://en.wikipedia.org/wiki/Nuragic_civilization
World Heritage Convention (1972), Convention Concerning the Protection of the World Cultural and Natural Heritage Adopted by the General Conference at its seventeenth session, Paris, 16
november 1972.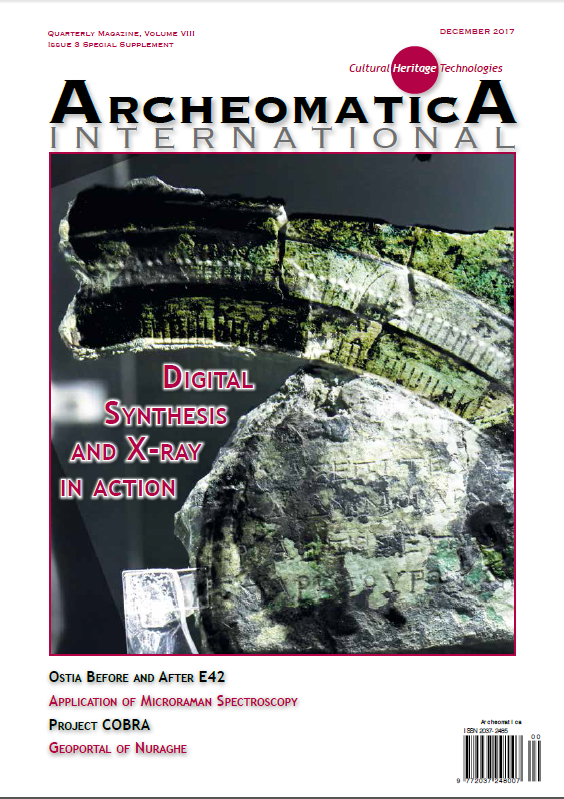 ##submission.downloads##
Come citare
Spanu, V., Lorrai, E. B., Muscas, L., & Demontis, R. (2019). NURNET – GEOPORTAL. Archeomatica, 8(5). https://doi.org/10.48258/arc.v8i5.1669
Licenza
Gli autori che pubblicano su questa rivista accettano le seguenti condizioni:
Gli autori mantengono i diritti sulla loro opera e cedono alla rivista il diritto di prima pubblicazione dell'opera, contemporaneamente licenziata sotto una Licenza Creative Commons - Attribuzione che permette ad altri di condividere l'opera indicando la paternità  intellettuale e la prima pubblicazione su questa rivista.
Gli autori possono aderire ad altri accordi di licenza non esclusiva per la distribuzione della versione dell'opera pubblicata (es. depositarla in un archivio istituzionale o pubblicarla in una monografia), a patto di indicare che la prima pubblicazione è avvenuta su questa rivista.
Gli autori possono diffondere la loro opera online (es. in repository istituzionali o nel loro sito web) prima e durante il processo di submission, poiché può portare a scambi produttivi e aumentare le citazioni dell'opera pubblicata (Vedi The Effect of Open Access).