"STEP BY STEP 2.0" – UN'APPLICAZIONE MOBILE PER ESPLORARE PALAZZO MADAMA-MUSEO CIVICO D'ARTE ANTICA (TORINO)
Parole chiave:
Applicazioni mobili, tablet, musei, giochi interattivi, location-based services
Abstract
The spread of mobile applications has recently exposed museums to new opportunities, both in terms of learning and engagement of new visitors: in this scenario, a special role is played by mobile applications integrating location-based services and gamification approaches. This paper presents the description and evaluation of "Step by Step 2.0", a mobile guide developed for Palazzo Madama-Museo Civico d'Arte Antica (Turin, Italy) by engineering company TonicMinds. The guide includes trails, an indoor navigation system, the connection to social networks and two location-based mobile games, specifically developed for young visitors. The results show that mobile apps can facilitate visitors' meaning making process and enable unconventional models of exploration, which are definitely worth- investigating.
Riferimenti bibliografici
Brown, E., 2010. Introduction to location-based mobile learning. In Brown, E. (ed), Education in the Wild: contextual and location-based mobile learning in action. A report from the STELLAR Alpine Rendez-Vous workshop series. Nottingham, UK University of Nottingham, pp. 7-9.
Bruno, A. e Pollichino, G.B., 2011. Sperimentare una nuova metodologia di analisi comportamentale durante le visite nei musei, in "Palazzo Madama. Studi e Notizie", 0/1, pp. 209-213.
Grose, B., 2014, Does the long-term survival of UK arts and culture rely on digital?, http://www.theguardian.com/culture-professionals-network/culture-professionals-blog/2014/mar/14/survival-uk-arts-culture-digital
Ioannidis, Y., et al. 2013. One Object Many Stories: Introducing ICT in museums and collections through digital storytelling. In "Proceedings of the Digital Heritage International Congress", Oct. 28 2013-Nov. 1 2013, Marseille-France, pp. 421-424.
Tallon, Loà¯c, 2013. Mobile Strategy in 2013: an analysis of the annual Museums and Mobile survey, http://www.museumsmobile.com/wp-content/uploads/2013/07/MMSurvey-2013-report-V2.pdf
Veron, E. e Lavasseur, M., 1983. Ethnographie de l'exposition, Bibliothèque Publique d'Information, Centre George Pompidou, Paris.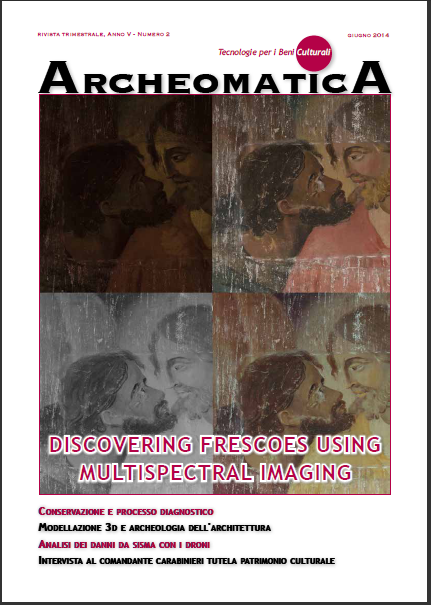 ##submission.downloads##
Come citare
Rubino, I. (2014). "STEP BY STEP 2.0" – UN'APPLICAZIONE MOBILE PER ESPLORARE PALAZZO MADAMA-MUSEO CIVICO D'ARTE ANTICA (TORINO). Archeomatica, 5(2). https://doi.org/10.48258/arc.v5i2.680
Licenza
Gli autori che pubblicano su questa rivista accettano le seguenti condizioni:
Gli autori mantengono i diritti sulla loro opera e cedono alla rivista il diritto di prima pubblicazione dell'opera, contemporaneamente licenziata sotto una Licenza Creative Commons - Attribuzione che permette ad altri di condividere l'opera indicando la paternità  intellettuale e la prima pubblicazione su questa rivista.
Gli autori possono aderire ad altri accordi di licenza non esclusiva per la distribuzione della versione dell'opera pubblicata (es. depositarla in un archivio istituzionale o pubblicarla in una monografia), a patto di indicare che la prima pubblicazione è avvenuta su questa rivista.
Gli autori possono diffondere la loro opera online (es. in repository istituzionali o nel loro sito web) prima e durante il processo di submission, poiché può portare a scambi produttivi e aumentare le citazioni dell'opera pubblicata (Vedi The Effect of Open Access).